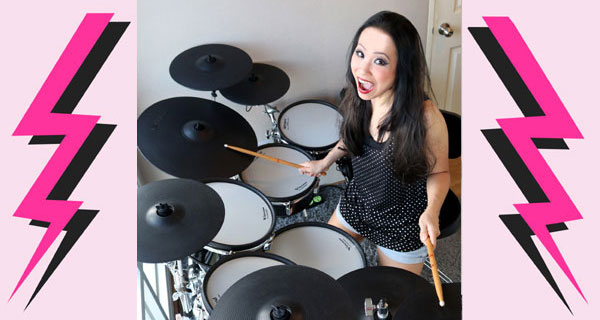 Thunder Custom Kits enhance your electronic drum module to reach its full sonic potential. Thunder is punchy, powerful and professional sounding. I guarantee that these custom kits will blow away the stock sounds of your module. Thunder is a brand devoted to aggressive drum sounds which are perfect for rock, pop and metal music. Thunder is NOT for folk, jazz or any type of light music where drums might be considered a background instrument.
Thunder is perfectly suited for recording, live performance, jamming or just practice. My custom created kits transform you into the God of Thunder every time you pick up your sticks! Why settle for mediocre sounds when you can truly bring the Thunder?
I provide custom trigger settings with every Thunder Custom Kits pack to help you to get more from your edrum set. My settings make your drums play more realistically and also reduce acoustic noise and wear on your gear.
My kits are super easy to install with just a few clicks of the module buttons. Installation only takes about 1 minute! Thunder goes directly into your module, so you do not need to use a computer, DAW or VST to play amazing sounds! I include a comprehensive manual to detail everything you need to know to make Thunder the drums of your dreams.
---
Check out all of my Thunder Custom Kits collections:
---
Thunder Custom Kits FAQ
How hard is it to install Thunder?
It is super simple. Loading a full backup of all kits and my custom trigger settings only takes a few button clicks. You can also load kit by kit if you choose and preserve your own settings. I provide a comprehensive written manual and video tutorial to make sure you have no problems. I want you to play, not work hard just to set it all up!
Which drum modules do you create kits for?
I offer Thunder sound enhancements for the Roland TD-17, TD-27 and TD-50X modules. More are on the way in the future. Creating Thunder is my passion, not just a way to make money. I will not compromise my vision to make kits for modules that do not support the benefits I have to offer. It's that simple…
Why are the stock sounds in my drum module so bad?
That's a great question. I have no idea why stock kits sound so uninspiring across virtually every drum module! However, since manufacturers insist on making stock kits that sound weak and janky, I am happy to make your drums awesome with Thunder.
Can I use your Thunder Custom Kits for jazz or other soft music types? How about for electronic music?
My Thunder Custom Kits are specifically made to emulate punchy, powerful and perfectly tuned acoustic drums commonly heard from professionally produced rock, pop and metal artists. Thunder will drive your speakers and resonate in your chest. These sounds are not for the weak of heart or for soft music styles.
Is this a VST? Do I need a computer to play Thunder like with Superior Drummer or other VST?
No. Thunder installs directly into your drum module. You do not need anything to play Thunder that does not come with your kit already. You simply add Thunder to your SD card, then install it easily onto your module. It takes just a couple of minutes and then you are ready to rock! (FYI, you will need a computer, or similar device, to add Thunder to your module SD card, but this is a 1 time only step that takes just seconds to do…)
---
Listen To and Purchase Thunder Custom Kits:
---