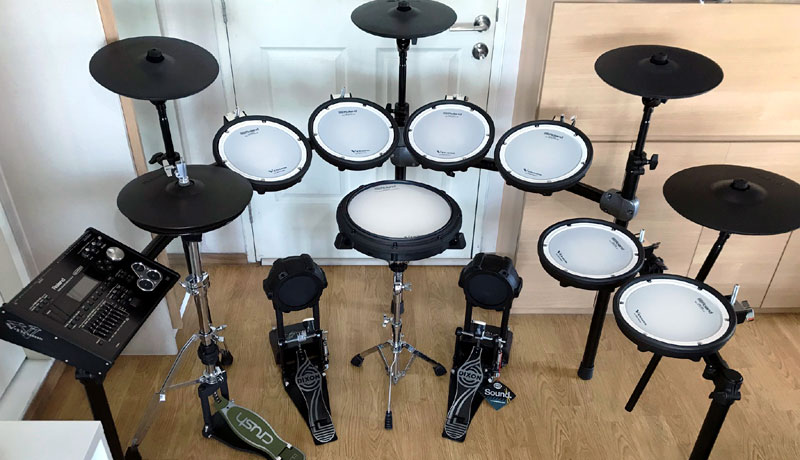 Our electronic drum FAQ provides answers you can trust for all of your edrum questions. This page will be updated as needed to cover a range of edrum topics that might be confusing to customers. Check back often if you have a new question or feel free to reach out to us and add your question to the list!
Q: Are electronic drums quiet?
A: Yes, most mesh and silicone pad styles are very quiet. Rubber pads will be louder. Most of our customers play their drums in condos and have no issues at all. There are always solutions for drums that are a little too noisy for some situations. We can help you to figure it all out! There is never a reason NOT to play drums based simply on where you live.
Q: What does a good edrum set cost?
A: This is a difficult question to answer. It really depends on how you define good and what you need your drums to do. A reasonable second-hand starter set can sell for as low as 20,000 baht ($700). A solid mid level kit can sell from about 30,000 to 40,000 baht ($900-$1200). A flagship set can range from 50,000 to well over 250,000 baht ($1500-$7000+). A bigger budget will usually buy more features and more flexibility. We are happy to provide specific advice for your needs. Advice is ALWAYS FREE.
Q: I want to buy a set of electronic drums for my child. I know nothing about drums. Can you help me?
A: Of course, all advice is free. We want you to have a great experience and for your child to develop a lifelong love of drumming.
Q: How durable are edums?
A: Good quality edrums are designed to be hit repeatedly and very hard with wooden sticks. They are very durable. Some products require some degree of maintenance, such as new heads or sensors occasionally. Nothing will last forever, but a quality set will last for a very long time if you take good care of it. We routinely buy and sell sets that are 20 years old and play exactly like new! Many edrums outlive their owners, literally…
Q: How can I make my edrums sound even better? I like to change things up for different sounds.
A: We are on the same page… We like our drums to sound really big and punchy, just like fine acoustic drums. Therefore, we have created a line of Thunder Custom Kits for select modules that truly optimize the edrumming experience. Our kits sound awesome and are a fantastic value.
Q: I have not played drums in a long time, but want to get back into music. Will I like edrums?
A: If you love drumming, you will enjoy edrums. In fact, like us, you might be amazed how great it is to be able to play drums that sound huge in your headphones, yet make no noise to disturb neighbors. Edrums have made drumming accessible for almost everyone now.
Q: Can I use my edrums to gig with?
A: Yes, of course! Most professional drummers now use electronic drums exclusively, or in addition to their acoustic drums. Edrums feature many advantages to traditional acoustic drums and virtually all the music you hear contains electronic samples and embellishments. Live gigging with edrums is easy for you and the soundman. There are no mics needed and you both have complete control over the sound.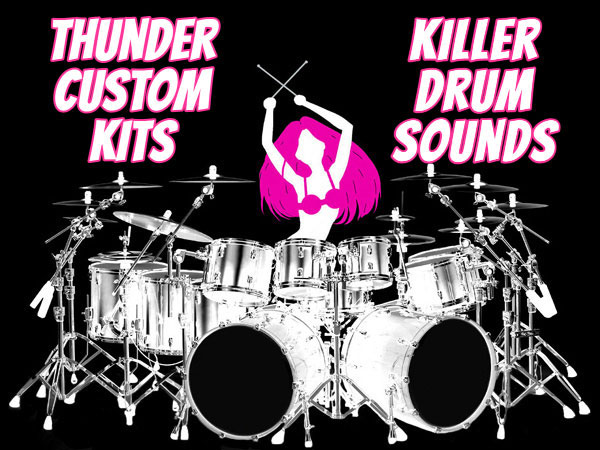 Q: How do I record edrums?
A: You can record your drums (and play along music) directly on many drum modules. You can also connect your drums to any mixing board, recording device, DAW or VST using analog or digital connections.
Q: What other features do edrums have that acoustic drums do not have?
A: Virtually all drum sound modules contain practice and learning features, making them ideal as educational tools and vital aspects of daily practice. Edrums can usually be connected to any MIDI device in order to trigger sounds from VSTs, synthesizers or any MIDI device. Electronic drums can be easily recorded without any special gear and without any noise. Want a professional home studio? Edrums are your simple solution!
Q: What are your thoughts about rubber pads versus mesh versus silicone?
A: Rubber pads are cheap. This is their only advantage. They are loud and can actually injure your hands and wrists. More edrummers develop health issues related to their playing on rubber pads than any other type. It is a fact. Mesh is the industry standard for good reason. It is super durable, super quiet, feels great and is closest to an actual drum. Silicone pads are made exclusively by Yamaha. Some people love them and others hate them. A: If we had to recommend only 1 type of drum material, we would recommend mesh every single time, with no exceptions.
Q: I hear lots of good things about cool looking hybrid kits and acoustic kit conversions. Should I go this route?
A: You could. Generally speaking, it is easier to make your kit perform perfectly using regular edrum pads compared to using any type of triggers with acoustic drums. You need to set more parameters carefully in the module to get excellent trigger results from acoustic conversions and the best results may still fall short of pad-based kits or full shell drums that are designed and built to trigger exclusively. If you like a challenge and accept the possible downsides, feel free to go for a conversion kit. However, we tend to recommend kits that are designed and built to be electronic, since their performance is the very best.
Got a question? Reach out and contact us!