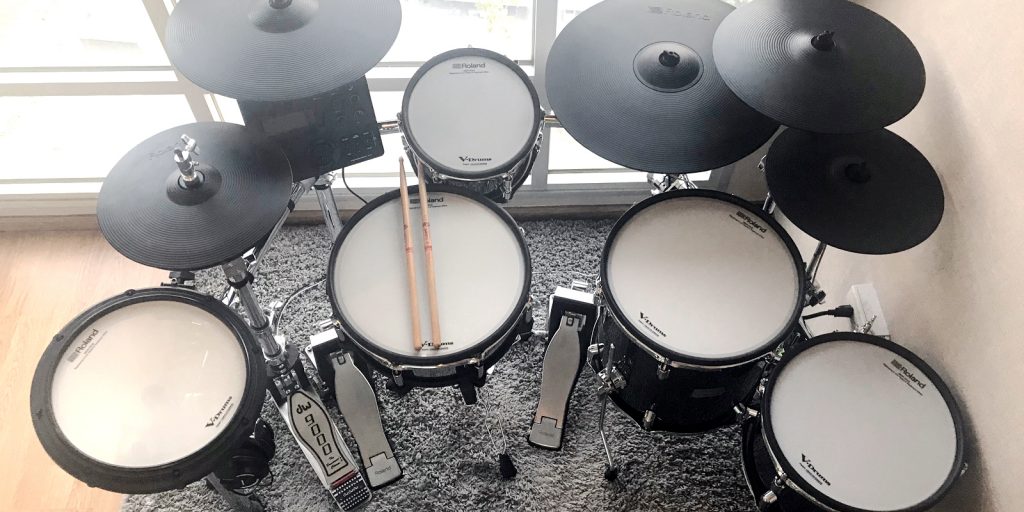 Enjoy my multi-series Roland VAD review and learn if these high-end edrums are right for you. Roland has decided to keep its traditional V-Drums line (TD series) separate from the VAD line and seems content manufacturing both into the future. Is a VAD worth the price increase over a normal V-Drums kit?
The Roland VAD series currently consists of the 100, 300, 500 and 700 lines, with price and feature set increasing as the model numbers grow larger. I will detail the basics of each model in the VAD line in this post.
Finding the right edrums for you can be challenging, since there are more options than ever before. This post will help to evaluate the strengths and weaknesses of the Roland VAD line of electronic drums and help consumers to make informed choices when it comes time to purchase. If you want a pros and cons analysis of the VAD line of drums from Roland, then you are reading the right post!
Roland V-Drums Acoustic Design Overview
VAD stands for V-Drums Acoustic Design. These drum sets are made to look more like traditional acoustic style drums compared to the pad-based and rack mounted Roland V-Drums line of TD series kits. The VAD drum sets are mounted on regular drum and cymbal stands and consist of either full acoustic size shells or half-depth shells very similar to Roland's flagship V-Drums kits like the TD30KV or TD50KV.
Apart from the design of the set appearing differently compared to regular V-Drums, the VAD line is otherwise virtually identical in terms of performance and technical specs. There are a few minor differences that might help tip you one way or the other when deciding between a VAD or TD kit. I will explore those differences in the sections to follow… First, let's take a look at the basic technical specs of the VAD line as it stands right now:
Roland VAD Models
There are currently 4 lines of VAD drums available in 4 very different price points:
Roland VAD103 is the starter level set in the V-Drums Acoustic Design series. This set features half shell drums and the TD-07 module. This is a nice compact kit for a beginner or casual player.
Roland VAD306 provides a larger kit profile with an upgraded TD-17 module. The module is a substantial improvement and offers a better experience for intermediate players. The 17 is simple enough for any beginner, if budget is not a problem, and can even satisfy a more advanced player with its lovely playability.
Roland VAD503/6 was the first VAD line to be released, featuring the brand new (at the time) TD-27 module. This was the second modules made by Roland to embrace the PD-140 DS Digital Snare and CY-18DR Digital Ride cymbal. The 500 series consists of full size shells for a true acoustic drum appearance and feel. The 500 series perfectly suits advanced hobbyist drummers, some gigging pros and anyone who can afford these expensive, but beautiful, kits. Both the 503 and 506 kits are only available in black sparkle finish.
Roland VAD 706 is the VAD flagship model, featuring the amazing TD-50X module and new VH14D Digital Hi-Hat. The 700 series also provides 4 different finish choices to truly customize your VAD kit. Although very expensive, this kit represents the very best technology offered by Roland at the moment!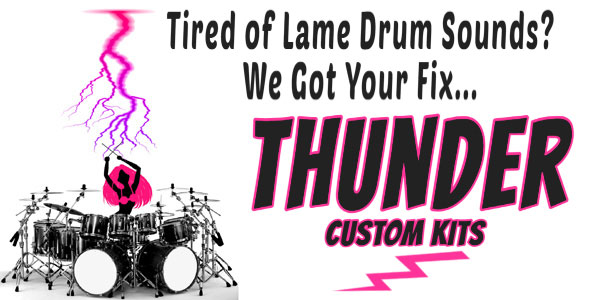 Roland VAD Pros
The VAD drums have several advantages over the TD line that might make them highly desirable to drummers:
The drums are beautiful in appearance and more closely resemble an acoustic drum set. This is especially true of the 500 and 700 series of VAD kits, which have full size shells and a wonderful finish. These sets will likely fool most audiences to believe the drummer is playing a traditional acoustic set.
Drum sizes are close or identical to acoustic sizes, making the transition between playing edrums and acoustic drums seamless. VAD sets are great for bio-ergonomic mapping and muscle memory development.
The VAD line is expensive and prestigious, appealing to the ego of many drummers who want the best of the best.
Some VAD drums feature Roland's newest 3 cone trigger system, eliminating hotspots when compared to the center mount cone triggers used on many TD series kits. The 3 cone trigger system is included in 12" and 14" sizes on the VAD kits, but not on the 10" sizes.
Roland VAD Cons
VAD kits are more expensive than comparable model V-Drum TD sets with similar features.
VAD kits are heavier and take up more physical room than pad-based TD series kits.
VAD shells might be more susceptible to damage on the finish compared to many plastic V-Drum pads.
VAD sets are limited in set-up similar to acoustic style drums. They are not as thin and flexible as traditional edrum pads that can often be easily overlapped and stacked more like cymbals. This is particularly true of the full size shells on the 500 and 700 lines.
The kick drums do not feature full mesh heads like the other drums. Instead, they have a KD-10 style insert that is not nearly as satisfying or easy to use, compared to a full mesh head like on the ATV a-Drums, for example.
VAD kits come on stands instead of a rack. This can be an advantage or disadvantage, depending on preferences, and in reality, any edrums can be mounted either way anyway…
Roland V-Drums Acoustic Design Final Thoughts
As an edrum store owner, I love to follow the latest trends. When Roland's VAD line debuted, I knew right away that it would be a big hit. I owned the ATV a-Drums prior to the VAD release and can honestly say that these ATV products MUST have been the direct inspiration for the VAD line, since the similarities are just too many to be coincidental… Roland was simply able to better bring their products to market in a much more effective way, while ATV has floundered in recent years.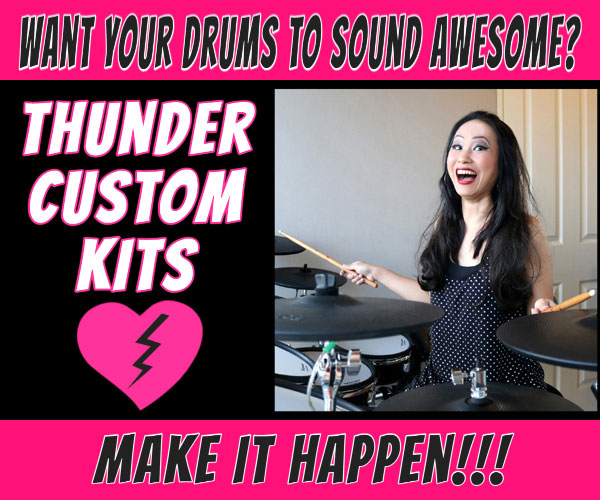 I own a VAD506 kit, but do not play it much. I found that for me, the full size shells were a detriment to how I like my kit set-up. I instead built a custom kit out of the half-size PDA-120L shells from the VAD306 kit for all my toms, benefiting from the 3 cone trigger design without hotspots. I like the form factor of the half shell VAD pads best, even though they are not convincing as looking truly acoustic. I also do not use a VAD kick, instead opting for the KD10 (the best edrum kick in my opinion).
If you are trying to decide between a VAD kit and a comparable TD series kit, then you should play both and consider your needs carefully. Each set will have pros and cons to consider and the VAD version will ALWAYS be more expensive.
So are VAD series worth it? Well, when it comes to anything in life, worth is subjective. If you buy them and feel that they ARE indeed worth the price, then they truly are. The VAD drums can easily be emulated in function by super cheap DIY edrums, however, they offer more than just function. They offer a beautiful form, executed with the professionalism and experience of the best company in the edrum industry, Roland. If you want them, love them and feel they will suit you, then go for it! I am quite sure that you will not regret your purchase of a Roland VAD set!